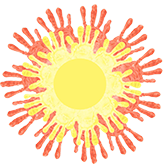 Yoga Instruction
Laura teaches yoga to groups in studios and at events as well as privately in studios and in client's homes. She specializes in the areas of gentle/therapeutic yoga, core strength, alignment, breathwork, guided meditation, yoga for beginners, partner yoga and family yoga.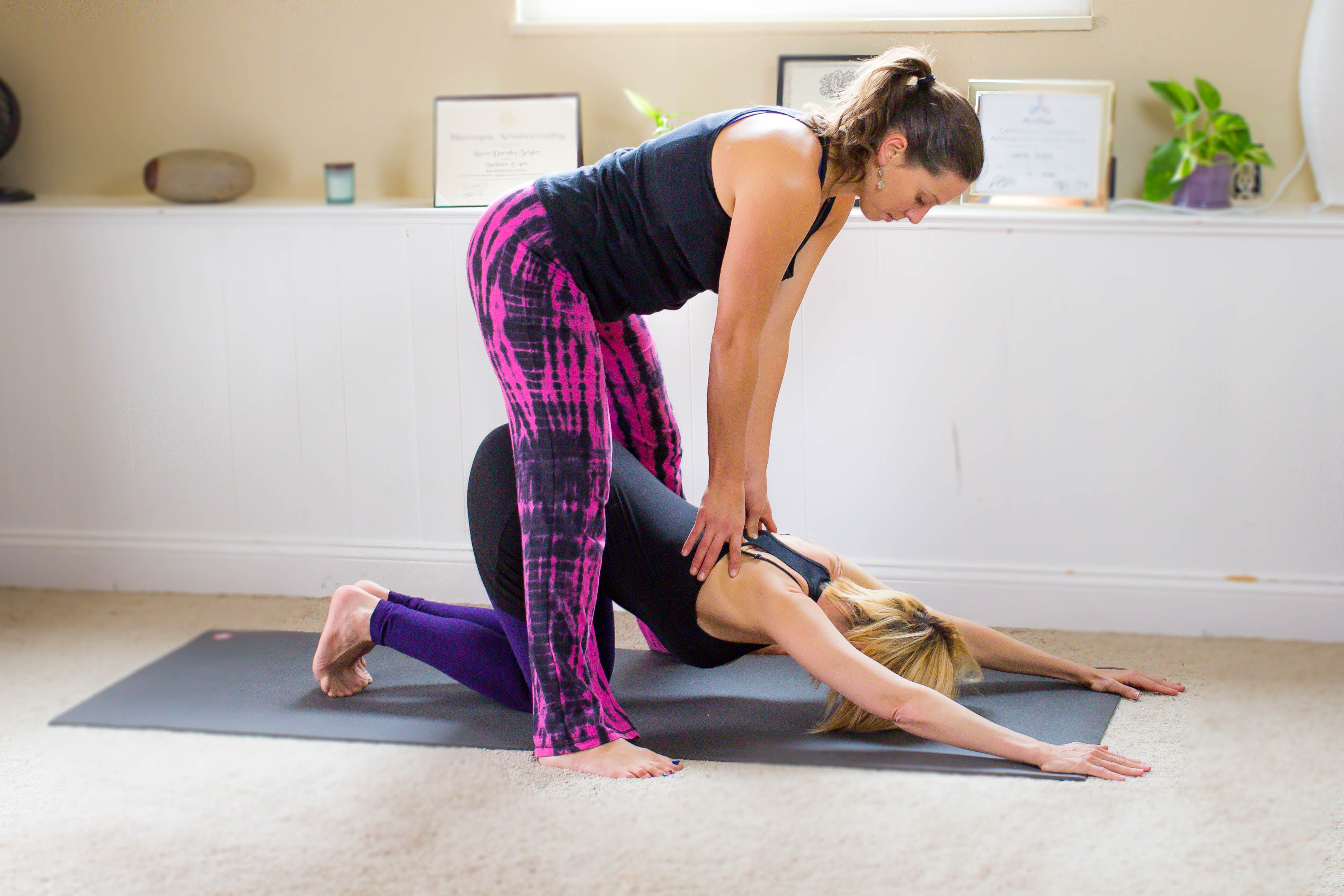 AcroYoga
One of Laura's passions both to teach and for personal practice is AcroYoga. She is excited about using Thai Massage, Partner Yoga and AcroYoga to explore how movement, play, gratitude and conscious touch deepen our relationships, strengthen our bodies and challenge our minds.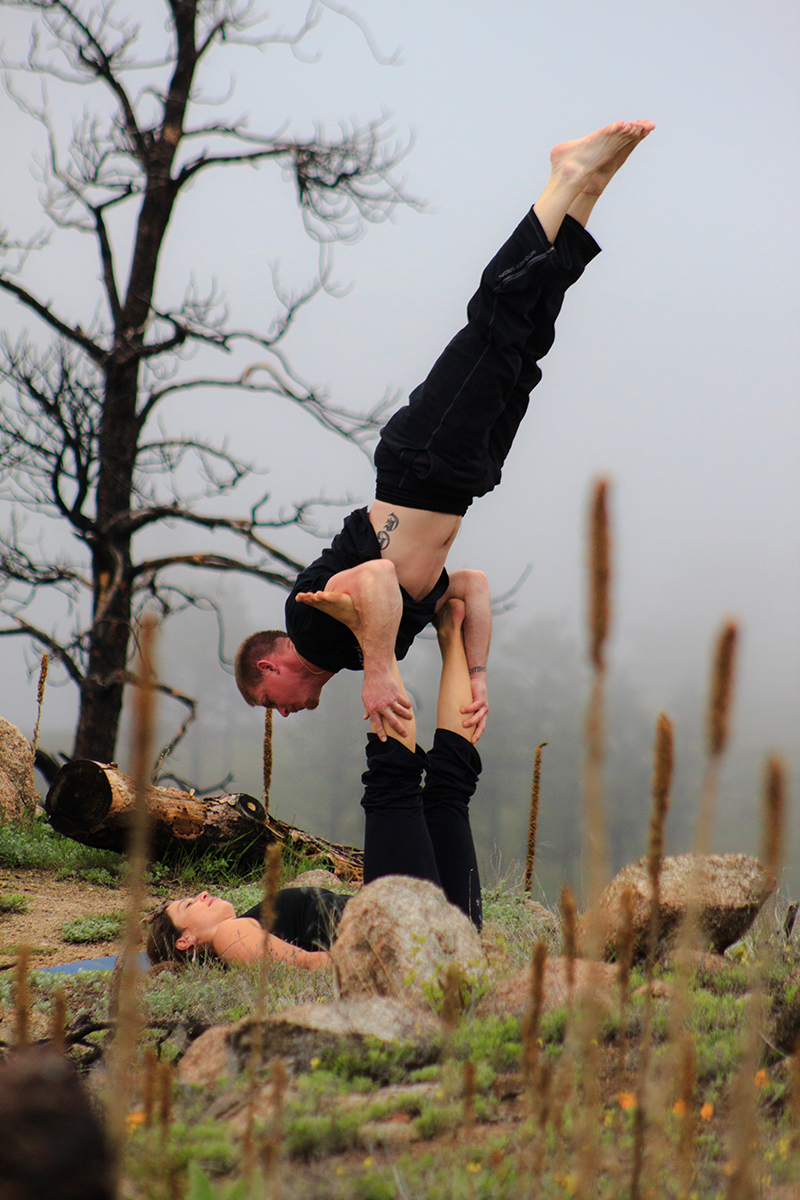 FUNdamental AcroYoga
AcroYoga combines Thai massage, partner yoga and acrobatics into a beautiful, safe, harmonious lifted form that invites you deeper into relationship with yourself through dynamic relating with others. At the fundamental level of practice it's essential to have the opportunity to experience the roles of base, flyer and spotter with same-size partners and to experience both the strong acrobatic side as well as the softer restorative side of the practice. Through trust games, partner yoga, flying poses and Thai massage you will be introduced to a balanced practice of AcroYoga, while activating your inner child through the spirit of play! No partner or experience necessary.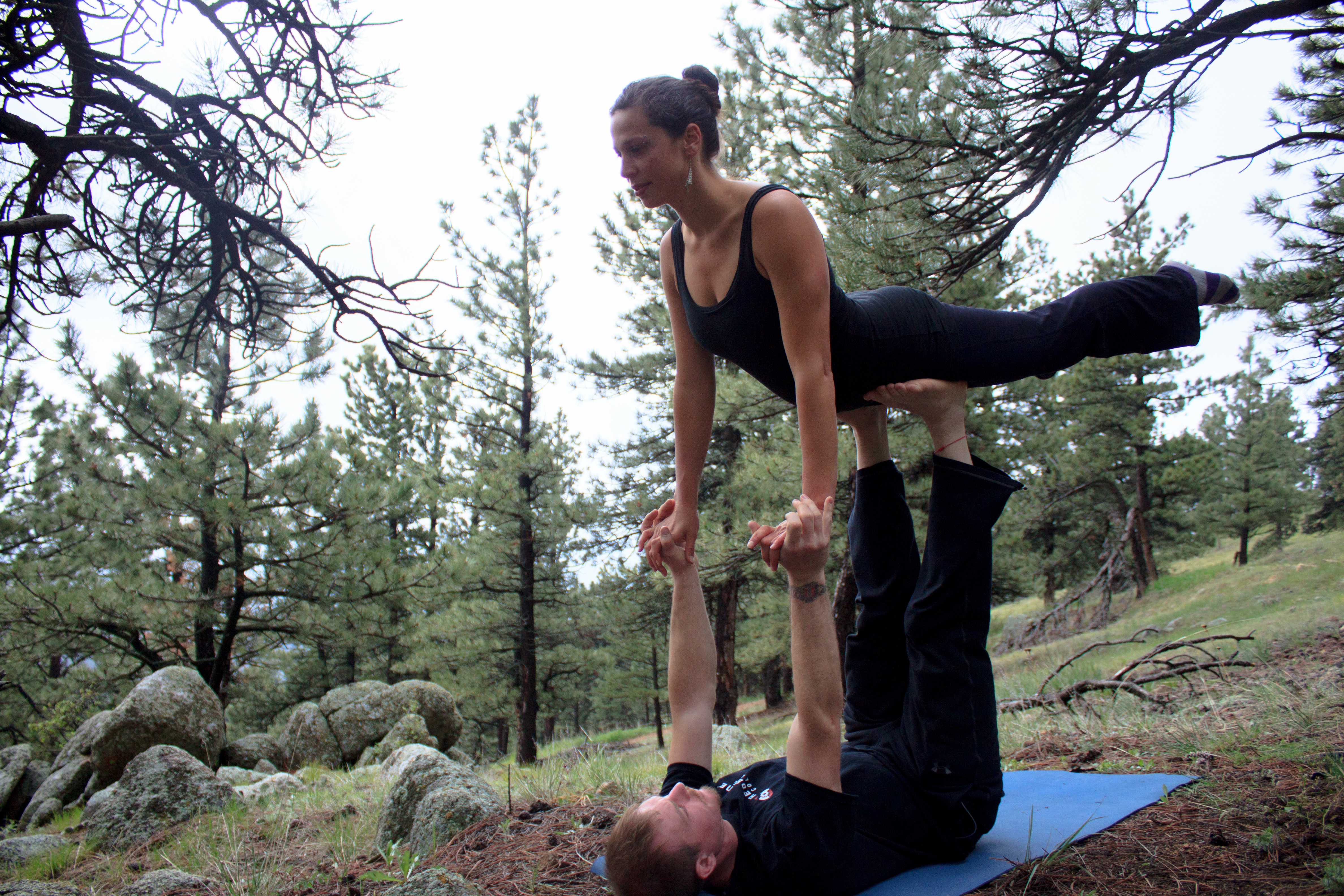 All Levels AcroYoga
All levels AcroYoga means that this class is truly for everyone. Modifications and opportunities to up-level are offered, while moving at a steady pace that balances group instruction with practice time to hone skills in small groups so the wisdom is shared in community. This class is intended to help you get stronger, deepen sensitivity, practice conscious communication and have fun doing it! Each week we'll build on fundamentals and train transitions through a variety of poses, developing a strong acro skill set to help you cultivate a solid AcroYoga practice. No partner or experience required.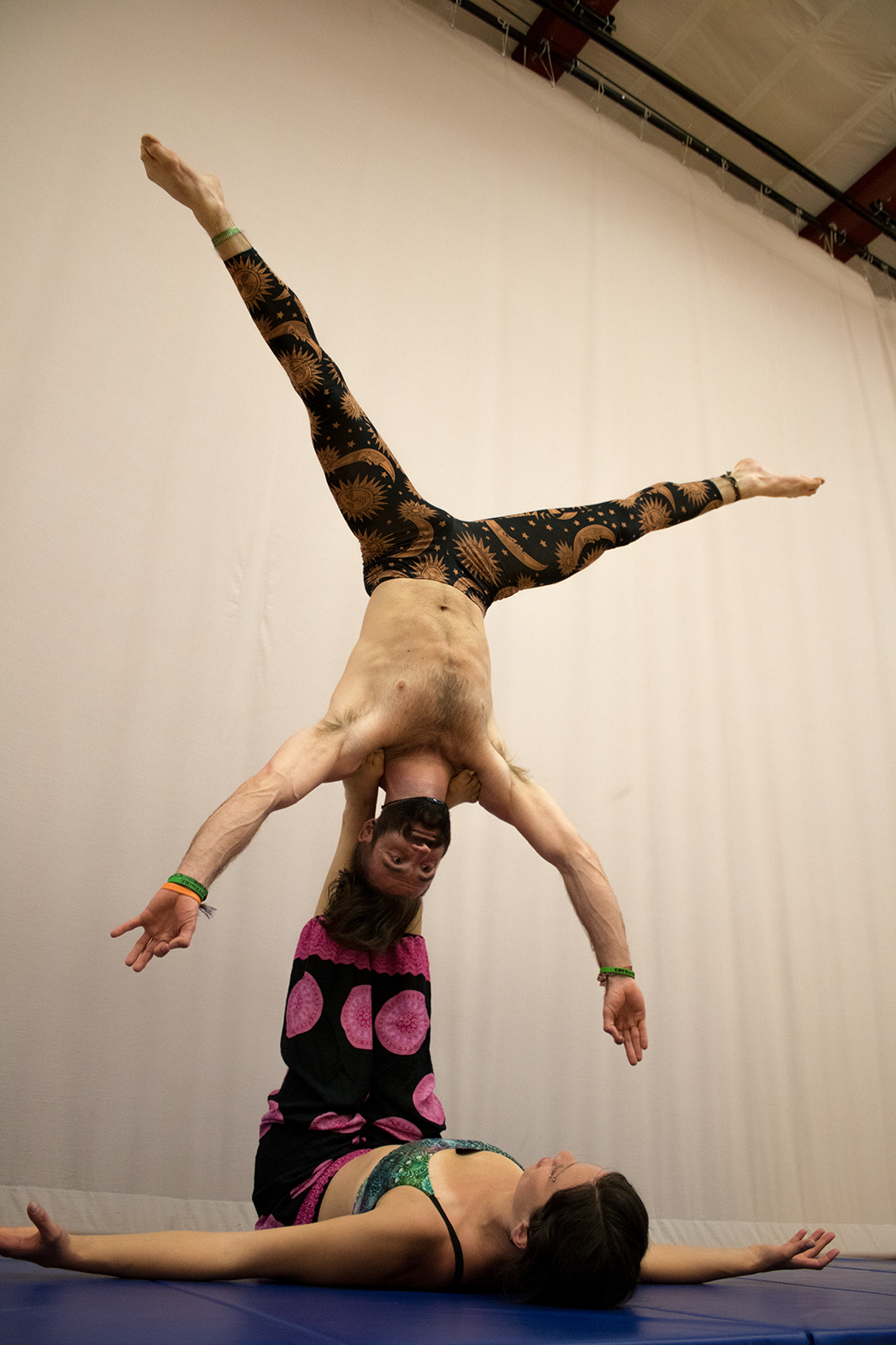 Lunar AcroYoga
AcroYoga can seem exciting and a little intimidating, but meet it's softer side with restorative flying and Thai massage."Lunar" is a term in AcroYoga meaning the softer, more receptive side of the practice. It cultivates deep strength because the base is asked to bear weight and stabilize for an extended period of time, while the flyer must trust to the ultimate level of complete relaxation.
This class will focus on restorative flying postures and is appropriate for all levels. As a beginner, starting with therapeutics is a way to solidify the foundations of the practice while moving slowly in an environment of safety and trust. For the advanced practitioner it is a way to master basing technique and strength, learn to surrender and receive your partner both as a base and flyer, and to practice direct, compassionate communication about your needs.
After fun and relaxing lunar flight, we wind our way to the ground for Thai massage, 'the lazy man's yoga'. This practice dates back to the time of the Buddha and is a form of bodywork that is both deeply soothing to receiver and easeful for the giver. Be prepared to give and receive in this class. No partner or experience necessary; come learn to base, fly, spot and relax in community.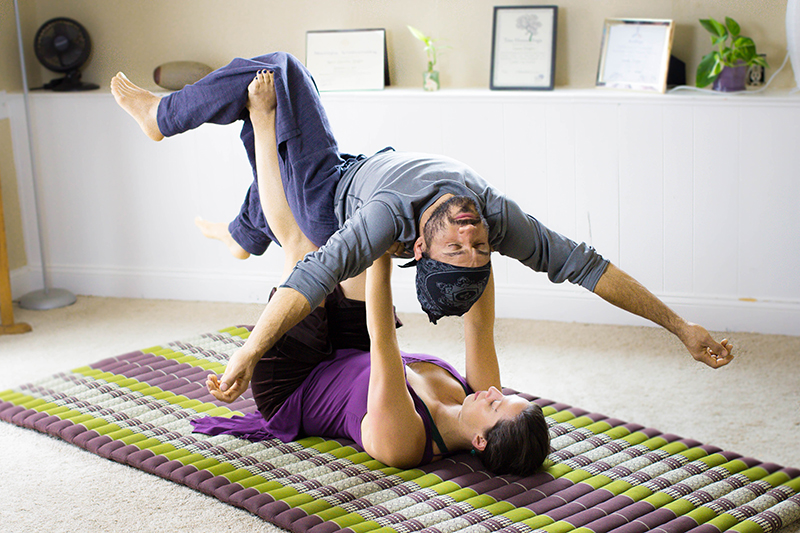 Family AcroYoga
As a Family AcroYoga teacher Laura is dedicated to sharing this practice through games, stories, and playful exploration with people of all ages! Family classes can range from a little-ones class of parents rolling around with their toddlers to a teens AcroYoga class where we practice trust games to build confidence and learn to help lift eachother (literally) to new heights. At either end of the spectrum, the intention is the same, to create a safe environment, explore connection and conscious play together, and learn fun partner, group and flying poses with family. All ages and abilities welcome unless otherwise specified.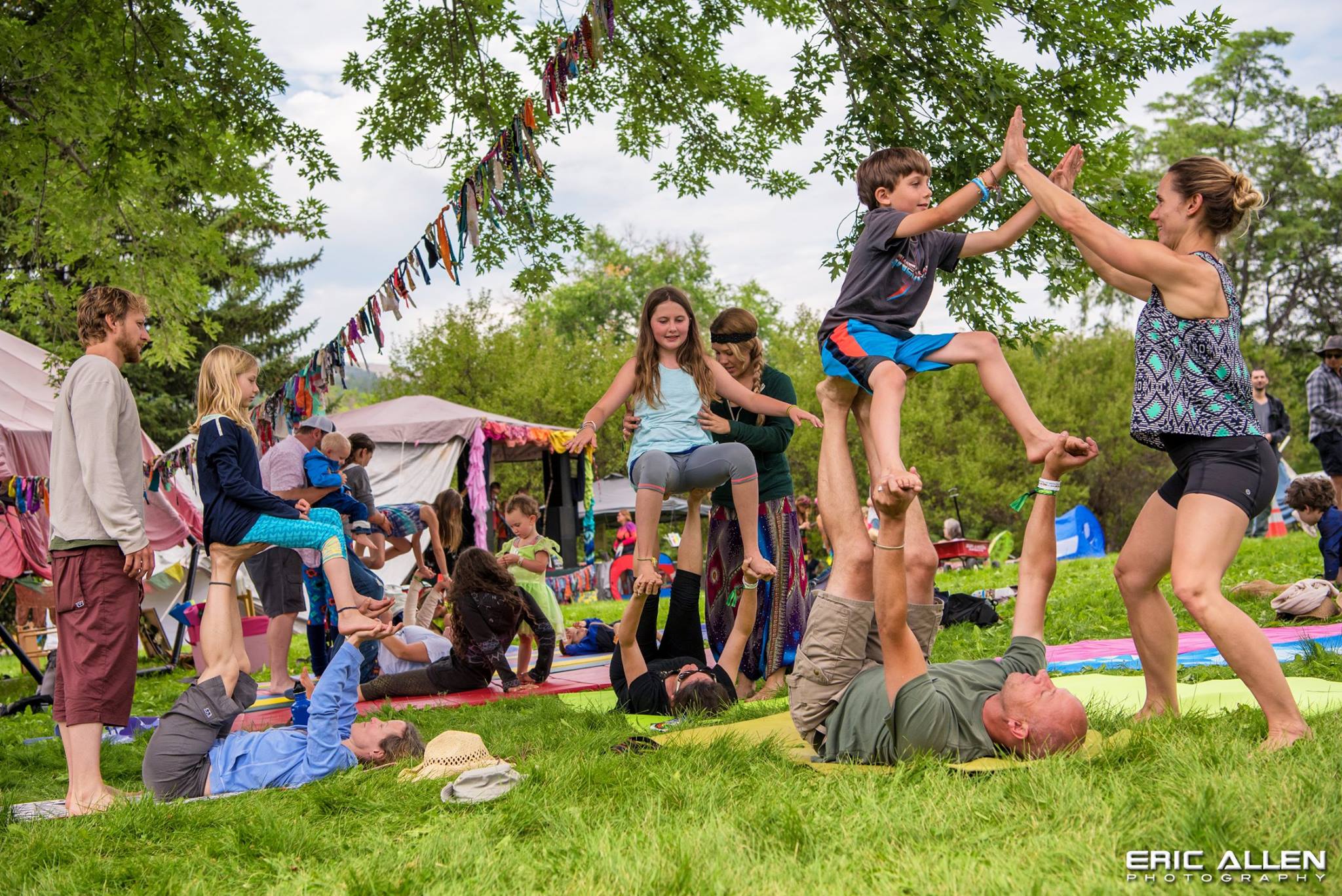 Created by Joshua Frye & Laura Zeigler - Copyright 2016-18 - Photos by Ben Morris, Vanessa Vitali & Lisa Mia Studios